We are enthusiastic about machines of all kinds, especially when they function mechanically.The motor sports sector is a small but extremely interesting customer group to which we would like to pay special attention. Therefore, we are striving for the membership in VDAT e.V.
What is the VDAT:
The VDAT e.V. is the professional association of the tuning and car accessory industry which is independent of the vehicle manufacturer. The association represents the interests of its members at the political level to ensure that changes to vehicles in circulation can be carried out in the future. The VDAT is organized on a European level in the European Tuning Organization www.e-t-o.org
The VDAT and its members stand for safe and serious tuning within the framework of the regulations applicable in Germany. We orientate ourselves on what is technically sensible and not on what is theoretically technically feasible to give customers lasting pleasure in the individualization of their vehicles.
The members of the VDAT consist of companies from the tuning and accessories industry as well as supporting members, e.g. from the supplier industry and the media.
Since the foundation of the VDAT in 1987, the VDAT quality mark has developed into a brand of the association and its members. Only members are entitled to use the quality mark!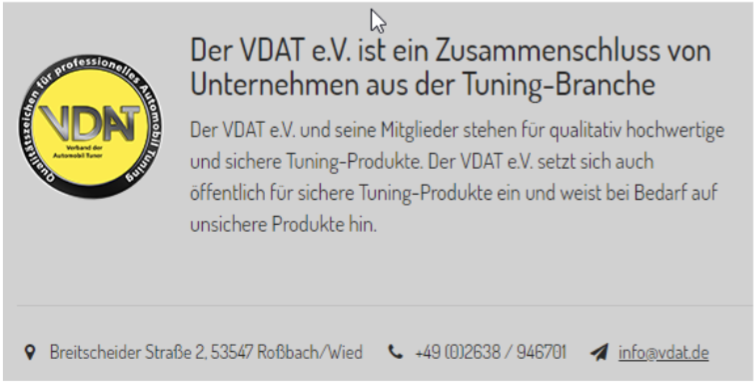 VDAT e.V., https://www.vdat.org/de